Women seeking a tighter, more toned figure, may decide to turn towards surgery to help attain the physique that dieting and exercise alone cannot achieve. Dr. Rolando Morales, Houston, TX plastic surgeon, is able to create a silhouette that is firmer and smoother by using body contouring procedures to tighten loose skin, and facial fillers where volume has been lost. For women who have lost weight and are getting back into a fitness routine, these procedures can help provide a jump-start towards a toned, new figure.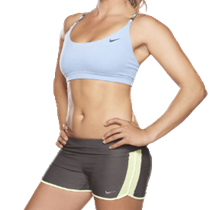 Dr. Morales is well known in the Houston fitness community of gyms and trainers. As a competitive physique athlete himself, he understands the dedication and commitment it takes to improve your body. It is common for athletes to desire "fine tuning" of their bodies with breast volume restoration using breast augmentation, or the removal of stubborn areas of loose skin. Many athletes have had previous procedures, and may require revision procedures to restore their physique to a more natural appearance. Whether you need a single procedure or a combination of procedures, such as a breast lift and augmentation, or a tummy tuck, Dr. Morales has the eye of an artist and the gift of a skilled surgeon to turn your vision into stunning, natural-looking results.
Reviews
"So Far, So Good, Worth It! - I was a little skeptical and very nervous about doing this. On a recent vacation I noticed how flabby I was in stomach area despite me being a regular in the gym. Yes I have ate clean did crunches and cardio and nothing. I also had scars on my stomach that needed to be taken care of. I am very happy with results and honestly didn't think it would come out this great. So far I'm in my 6th week..."
- R. /
RealSelf /
May 16, 2017
"Mommy Makeover - I'm a mother of 3 and after having my first child I knew when I was done having kids I would want (and need) a tummy tuck and something done with my breast. When I started looking around for a doctor I quickly realized that getting it all done together would be my best option. When I went in for the initial consultation with Dr. Morales in January I was very impressed with not only him, but..."
- P. /
RealSelf /
May 13, 2017
"30yr Old, 3 Csections and over Weight - Houston, TX - I don't know where to start! From the moment I called for information to the most recent check up,it has been nothing but the most incredible care. I love Dr. Morales! He gave me back all the confidence I seem to have lost with every pregnancy and weight gain. Everything is top professional care. Dr. Morales makes you feel comfortable and takes the time to answer any question or concern. He..."
- D. /
RealSelf /
May 12, 2017
"34 Year Old, 126lbs, No Kids, BBL with Breast Augmentation - Houston, TX - I ALWAYS knew I wanted a Breast Augmentation but decided I would wait until I turned 35 years old. As I began looking into surgeons I decided to consider having a fat transfer procedure as well. I began looking into realself and going through videos but there was not a lot of US procedures...everyone was going to the D.R. for their experience so of course I freaked out at the thought of doing..."
- R. /
RealSelf /
May 06, 2017
"I had a lower body lift with tummy tuck, breast augmentation, lipo of flanks and BBL! I feel like he took it to a personal level! He did everything I asked and he went above and beyond what I ever expected my body to turn out like! It has only been 3 weeks and I'm already in love with my body and it just keeps getting better as the swelling goes down! From the moment I stepped in the office the day of my surgery April 4th, I was treated with nothing but kindness! The woman wh...o walked me to my private room, wish I could remember her name, had me laughing and feeling at ease! The anesthesiologist had me laughing and feeling right at home! Walking into the OR still felt so comfortable! This man has changed my life for the better! I never thought I could look like this and am extremely pleased i was referred to him! Thank you for being an artist and making me your canvas!"
- S.P. /
Facebook /
Apr 28, 2017
Previous
Next
Many women feel that after losing weight, having babies, etc., that they simply cannot attain the figure they desire even with relentless workouts and a clean dieting program. Dr. Morales proves that this is possible with cosmetic surgery. Small enhancements can make huge improvements to a woman's self-esteem, and in many cases, allows her to get back into shape with more confidence. His suite of female fitness surgeries may include one or a combination of the following procedures:
Breast augmentation is one of the most common cosmetic surgery procedures. It is especially common for women who have lost breast volume due to weight loss, but is especially desired by women who have lost volume due to weight training. It is a surgery that creates a fuller, shapelier breast, and for women who weight train, it ensures that the breasts stay full, while other areas of the body become lean.
Liposuction is a fat removal procedure that creates slimming results. Women, in particular, often find themselves battling isolated pockets of fat that remain on the thighs, hips and tummy even after fulfilling a dedicated exercise and diet program. Liposuction can remove these fat deposits and create the slimming look to jump-start a woman's fitness regime.
Crunches, planks and sit-ups can be done daily, over and over again, but for some women it will not be enough to create the toned abdomen they desire. Because of weight loss, pregnancy and age, loose skin can reside in the abdomen. Abdominoplasty (also known as a tummy tuck surgery) can remove this loose skin, while tightening the abdominal muscles. The result is a firm, more toned stomach, which results in added self-confidence, allowing women to reach their fitness goals.
When women lose weight or embark on a serious training regime, not only is the body affected, but often, the face is as well. Weight loss and weight training can create a natural loss of volume in the face, including the cheeks, under the eyes, lips, and around the mouth. Injectable facial fillers are a great way to restore this lost volume, resulting in a smoother, fuller facial appearance. Dr. Morales offers a number of filler options depending on the volume needed and the aesthetic goals of the patient.
Women who take care of their bodies with a healthy diet and fitness program, want to look and feel good all over, not just from the neck down. BOTOX can create a "glowing" facial appearance, and help complement the figure you have worked hard to attain. BOTOX is a common injectable that relaxes the muscles under the skin so that surface winkles become softer in appearance. It is a common injection for the forehead and around the eyes.
Plan Your Procedure
Average Procedure Time

Varies

Procedure Recovery Location

Out-Patient
Contact Us
Related Procedures