Houston, TX plastic surgeon, Dr. Rolando Morales, is not only a cosmetic surgeon, he is also a fitness buff and understands the importance of having a nice physique. Even though many men may follow a strict diet and gym regime, some desire a little outside assistance to help achieve the look they want. For these individuals, Dr. Morales offers Male Fitness Surgery to help guys maximize their outcomes and give them a jump-start. This suite of procedures allows men to pick and choose one or a combination of procedures to help gain a better contour, a leaner appearance and a more "ripped" effect.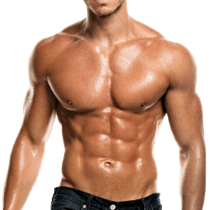 Reviews
"Great Experience with Dr Morales - Dr. Morales was very kind, professional and provided me with great results!! He was readily available to address any of my concerns throughout the entire process. Another doctor previously preformed a butt augumentation with implants; I was disappointed and left with improperly placed implants along with very deap and unsightly scars. Dr. Morales had since removed the implants and revised my..."
- C. /
RealSelf /
Sep 08, 2017
"33 Years Old, Two Boys and I Needed 'ME" Back! - Houston, TX - When i first got in the doctor's office (after doing deep deep research on his practice and him, i mean hours of research, do your homework!! ) I was NERVOUS! Dr. Morales made me feel so comfortable , reminding me that he does this for a living!! He made me feel so good... so i decided right there on the spot that i was going to have a surgery with him, i visited 4 doctors before him, but none of them had the perfectionist eye that he did, HEY ! my body right, we better get it right the first time.... My experience has being amazing, we had a few bumps on the way, my skin did not reacted well so i had an infection my second week, my amazing Dr. was super responsive, he was busy with his family and i would shoot him an e-mail an within minutes he would respond, called medicine in for me to the pharmacy and comforted me that everything was going to be ok. His assistant Linda went above and beyond with me, when i had made a last minute decision on the size of my implants, she asked all around to get what i wanted ( DO NOT DO THAT BY THE WAY), but she made it happened, she was there thru the whole process , I remember coming in frustrated and her comforting me and telling me that everything was going to work out just great!! OVERALL! my experience with all the staff was amazing, I do not regret it, i feel amazing and I'm looking pretty awesome as well!! all i can say is that this Doctor's hands were a calling from God, he does not only makes you feel special but he gives your life back by giving you confidence... Thanks Dr. Morales!"
- T. /
RealSelf /
Sep 05, 2017
"Arm Lift and Bra Line Lift After 170 Lb Weight Loss - Houston, TX - I finally decided to pull the trigger on this surgery after dealing with the excess skin and rashes for 4 years. I found Dr. Morales via extensive internet research and after a couple of other consultations I decided that he was my man. He was unique in his vision for my body and gave me different options for my incision placement. I haven't worn sort sleeves or sleeveless shirts without a..."
- R. /
RealSelf /
Aug 31, 2017
"36 Yrs, 4 Kids, Athlete and a Professional Career Woman - I decided to do a butt implant with fat transfer about a year ago after I worked so hard for many years to "grow" my backside with diet and exercise. After my 4th child, everything seem to disappear or go to shit. Lol!! In the past year, I've had revised breast implants, a full tummy fuck and topped it off with the butt implants. I'm on 11 days post op and feeling amazing!!! My dr is Dr..."
- F. /
RealSelf /
Jul 23, 2017
"So Far, So Good, Worth It! - I was a little skeptical and very nervous about doing this. On a recent vacation I noticed how flabby I was in stomach area despite me being a regular in the gym. Yes I have ate clean did crunches and cardio and nothing. I also had scars on my stomach that needed to be taken care of. I am very happy with results and honestly didn't think it would come out this great. So far I'm in my 6th week..."
- R. /
RealSelf /
May 16, 2017
Previous
Next
During the initial consultation, Dr. Morales will listen to the concerns and desires of his male patients and work to create a custom treatment plan. According to the goal of patients, he will identify the procedure(s) that will help them look and feel more fit, as well as add definition to their contour that they have been struggling to achieve. Dr. Morales may suggest the following procedures:
Some men, regardless how hard they train and how many crunches they do, cannot achieve the rippled abdominal look they desire. Abdominal etching is a surgery that can provide instant results by removing and repositioning fat in the stomach area. This is done using a special liposuction technique and is designed to accentuate the lines, ripples, and muscular appearance of a "6-pack" abdominal region.
Tone, tight chests are an aesthetic goal of many men. Some men, however, will not be able to achieve a toned appearance in their chest unless they undergo surgery for a condition known as gynecomastia. This is condition where excess tissue develops in the chest of a man giving the appearance of soft, female-looking breasts. Gynecomastia surgery can create a slimmer, more toned chest area, allowing men to exercise more freely, and expose their chests with confidence. During this surgery, the nipples may also be addressed if a nipple reduction is needed.
Bodybuilders and gym fanatics often work their chest and pec muscles to create a strong, tight chest. For some men, the hours put into their workouts are not enough to achieve the results they desire. Pectoral etching is a cosmetic surgery procedure that can help create the look of a muscular chest that hours in the gym cannot produce. It uses liposuction to reshape excess breast tissue to give men a firmer and more toned-looking chest.
Regardless of how "clean" a guy eats and how hard he works out, sometimes there can still be stubborn pockets of fat that simply will not go away. This can be frustrating, especially when a diligent diet and exercise routine is put forth. Liposuction can be used to remove these unwanted fat pockets, creating a slimmer, sleeker appearance. Dr. Morales offers several options for liposuction, depending on where the fat is located and how much is to be removed.
Plan Your Procedure
Average Procedure Time

Varies

Procedure Recovery Location

Out-Patient
Contact Us
Related Procedures