Houston, TX plastic surgeon, Dr. Rolando Morales, is not only a cosmetic surgeon, he is also a fitness buff and understands the importance of having a nice physique. Even though many men may follow a strict diet and gym regime, some desire a little outside assistance to help achieve the look they want. For these individuals, Dr. Morales offers Male Fitness Surgery to help guys maximize their outcomes and give them a jump-start. This suite of procedures allows men to pick and choose one or a combination of procedures to help gain a better contour, a leaner appearance and a more "ripped" effect.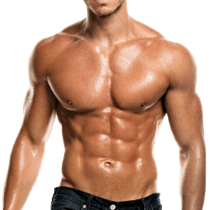 Reviews
"Finally...Boobs! - Houston, TX - Dr. Morales is fantastic! Great bedside manner, very respectful. He has great staff as well! - - I have wanted breast implants since I was in college. I never really developed much, and although it didn't really bother me, clothes didn't fit the way they were supposed to fit. That got frustrating! I had two children (age 28 and 30) and we decided our family is complete. I breast-fed both of them for over a year each. I got a taste of what it was like to have larger boobs! Woohoo! And then... I stopped breast-feeding. My boobs got smaller...if that is even possible. I decided to have a consult when a friend of mine had a great result with Dr. Morales. I felt very welcome when I met everyone at the office. Pictures are weird...but a necessary evil with this type of procedure. I will say I loved that Dr. Morales didn't look at my chest while he was taking photos. He looked at the screen on the camera. It's small things like that that matter to me. I felt very comfortable after that. Trying on the fake sizes was very helpful! Fast-forward to the day of surgery! I was very anxious as this was my first time to "go-under". And I had been very hesitant because of pain. But I paid $300 extra for a different anesthetic to be used on me while I was in surgery. It was a 3 day pain relief I think..and it worked very well! I had very manageable pain, and my incisions never gave me any problems. Great placement too by the way! It took a few weeks for me to be able to wash my hair ( as expected). I am now 4 months post-op and I am so happy and would do this again in a heart-beat! My clothes fit as they should now and I think I look fantastic!"
- 1. /
RealSelf /
Mar 06, 2017
"Breast revision/augmentation, 575cc to 800cc - Dr. Morales is the real deal.....Magnificent, young, a complete artist in the breast department. It is difficult to find a doctor who actually listens and tells you how it is, whether your expectations are unreasonable or if it can be done, always with pure professionalism. He takes his time, explains, research and works his magic. I couldn't be happier with my results, I knew the day I went to my initial consultation that I had found that one doctor. His staff is amazing, Linda, all of them are great and make sure you leave happy, never make you feel uncomfortable. Not only top doc, top notch! - - Had my initial breast augmentation 4 years ago, the results...well, one breast higher than the other which created the illusion of an even smaller breast, unevenness and much disappointment. Went back to my original "super experienced" plastic surgeon and his claim was "the problem is what you started with" if i remember clearly i never had a weird looking boob like that. Obviously, he talked and acted according to his dinosaur techniques. Also, the size of the implant wasn't what i expected, I am 5' 9'' broad shoulders, and the implants looked too small for my frame. After much research I found an excellent doctor, Dr. Morales. He had so many pictures and described his work in full detail, by far the best and thorough explanation of every single procedure. I went to see him, and decided on going big..800 cc from 575 cc originally. The results are amazing, he evened out my boobs and fixed imperfections I didn't even realize I had. Minimal pain, quick recovery, no scar tissue...nothing."
- R. /
RealSelf /
Feb 15, 2017
"57 Years Old and Had a Tummy Tuck and Lipo of Flanks, Bra Line, and Back - Houston, TX - Dr. Morales is AWESOME! He truly cares about his patients. He looks you in the eye when talking to you and is very honest about the expected outcome. When he is with you for an appointment or on the day of surgery, he makes you feel that he has all the time in the world to answer any questions you may have. I sent an email with a couple post op questions and Dr. Morales personally answered me back very quickly. Phone calls are also returned in a timely manner. Dr. Morales even gave me roses after the surgery! I would definitely recommend him to anyone considering cosmetic surgery. Well worth me having to drive 4 hours for appointments to have a wonderful doctor like this. - - I decided to have a TT and lipo of the flanks, bra line, and back due to the fact that with age my body was getting fat deposits and losing tone. Walking and diet had not been able to take care of my torso area. I was getting "my mom's body shape" and I knew that I didn't look as good in my clothes as I would like.After I went for my consultation and paid for the surgery, I kept questioning myself on my decision. "Am I too old to go through this?" "Is this going to be worth it?" "Is this a waste of money?" I'm sure many of you have thought the same thing. I am so glad that I did go through with the surgery. Even though I still have minor swelling at a little over three weeks out, I am amazed at the difference in my body. I feel great and have had no major issues.My surgery was on a Tuesday. From the time I walked into the hospital, everyone was kind and caring and made sure that any questions I had were addressed. I stayed in the hospital the first night and I had a compression garment on that wrapped around me and Velcroed in place. Wednesday I went to a hotel since I lived four hours away and my doctor wanted me to stay close for a few days. Thursday my doctor sent a home health nurse to check my incision and answer any questions I might have. Took my first shower this day also. I had read that pinning the drains to an "exercise band" draped around your neck would help during shower time and it definitely worked great. Friday I came home after an appointment with the doctor to check on how things were going for me.10 days after surgery, I went back to the doctor to have my drains removed. I had heard stories about the pain associated with having the drains removed, but thankfully I had no pain at all. At this appointment, they also changed me from the wrap around compression garment to body suit type of garment. This new garment is like a body suit that goes from a bra at the top to my knees. It is like a girdle for the entire area and is a lot more comfortable than the wrap around garment.17 days after surgery they took the surgical tape off my incision. The stitches will dissolve. I now wear steri-strips over the incision. Day 30 I will go back and they will start doing scar therapy. My scar is already a VERY thin line and looks good.The pros for me have been many. I love my new shape. Even with a little of swelling still, I look a lot better in my clothes. I know my confidence will be helped also since I feel that I look better.The only cons I can even think of are the expense and being restricted on activities for now."
- C. /
RealSelf /
Jan 27, 2017
"Awesome Doctor!! - Awesome doctor! Dr. Morales is a very kind and caring person. I felt comfortable from the day of my consultation all the way through the procedure and post-op appointments. He takes the time to answer any questions you have without making you feel rushed. His staff are wonderful to deal with also. He even gave me roses after my surgery! Due to his excellent care, I have had no issues... - - Awesome doctor! Dr. Morales is a very kind and caring person. I felt comfortable from the day of my consultation all the way through the procedure and post-op appointments. He takes the time to answer any questions you have without making you feel rushed. His staff are wonderful to deal with also. He even gave me roses after my surgery! Due to his excellent care, I have had no issues with healing and I look great! (I am 57 years old and had TT with lipo of flanks, bra line, and back)"
- C. /
RealSelf /
Jan 25, 2017
"51 Years Old, Weight Loss Loose Skin, Very Unhappy with my Appearance. - Dr. Morales is fabulous. You can tell he really cares about his patients. I felt very comfortable and assured about my procedure. He explained all of my options and answered all questions. I'm so glad I chose him as my plastic surgeon. His bedside manner is very comforting. I've already recommended him to others that are amazed with his work. - - I had had weight loss surgery and lost a lot of weight. This left saggy skin all over my body. A friend that had used Dr. Morales for some procedures recommended him. I was a little nervous at first but was put completely at ease by Dr. Morales and his staff. He did a complete evaluation and recommended procedures. He did a great job of answering my questions and his educated office staff.The results are much better than I imagined they would be. I can't tell you how happy I am. I wish I had done this sooner."
- K. /
RealSelf /
Jan 10, 2017
Previous
Next
Suite of Procedures

@headingTag>
During the initial consultation, Dr. Morales will listen to the concerns and desires of his male patients and work to create a custom treatment plan. According to the goal of patients, he will identify the procedure(s) that will help them look and feel more fit, as well as add definition to their contour that they have been struggling to achieve. Dr. Morales may suggest the following procedures:
Abdominal Etching

@headingTag>
Some men, regardless how hard they train and how many crunches they do, cannot achieve the rippled abdominal look they desire. Abdominal etching is a surgery that can provide instant results by removing and repositioning fat in the stomach area. This is done using a special liposuction technique and is designed to accentuate the lines, ripples, and muscular appearance of a "6-pack" abdominal region.
Tone, tight chests are an aesthetic goal of many men. Some men, however, will not be able to achieve a toned appearance in their chest unless they undergo surgery for a condition known as gynecomastia. This is condition where excess tissue develops in the chest of a man giving the appearance of soft, female-looking breasts. Gynecomastia surgery can create a slimmer, more toned chest area, allowing men to exercise more freely, and expose their chests with confidence. During this surgery, the nipples may also be addressed if a nipple reduction is needed.
Pectoral Etching

@headingTag>
Bodybuilders and gym fanatics often work their chest and pec muscles to create a strong, tight chest. For some men, the hours put into their workouts are not enough to achieve the results they desire. Pectoral etching is a cosmetic surgery procedure that can help create the look of a muscular chest that hours in the gym cannot produce. It uses liposuction to reshape excess breast tissue to give men a firmer and more toned-looking chest.
Regardless of how "clean" a guy eats and how hard he works out, sometimes there can still be stubborn pockets of fat that simply will not go away. This can be frustrating, especially when a diligent diet and exercise routine is put forth. Liposuction can be used to remove these unwanted fat pockets, creating a slimmer, sleeker appearance. Dr. Morales offers several options for liposuction, depending on where the fat is located and how much is to be removed.
Plan Your Procedure
Average Procedure Time

Varies

Procedure Recovery Location

Out-Patient
Contact Us
Related Procedures